You are here

August Newsletter to Clients
August Newsletter to Clients
Submitted by Moneywatch Advisors on August 2nd, 2023
Enjoy this month's edition that features a reminder about the merger of TD Ameritrade and Schwab, plus some perspective about the stock market and current events.
TD Ameritrade transition to Schwab update:
Many of you received an email from TD Ameritrade recently describing some key points about the impending merger of TDA and Schwab. Here are some highpoints:
You should have received a Key Information Packet via U.S. Postal Service containing the official notification of each of your account's new, eight-digit Schwab account number.
30 days prior to the transition, you will receive an email with instructions on how to setup your login to Schwab. Note, the account balances will not show until after the transition.
Our TD Ameritrade accounts will automatically and securely transition to Schwab, at no cost to you, on or about Tuesday, September, 5;
Our TD Ameritrade accounts will be available, as usual, through Friday, September 1. After that, we will not have access to the accounts until Tuesday, September 5;
Moneywatch Advisors will remain your advisor of record and will have the same authorizations on the Schwab accounts as we do now on your TD Ameritrade accounts.
As always, if you have any questions or concerns about the transition, please call the office at 859-268-1117.
The Market and Politics
In recent weeks, clients from both ends of the political spectrum have expressed concerns to us over politics, next year's presidential election, and "things" in general that have them worried about the country and the direction of the U.S. stock market. Our advice? When it comes to your investments, ignore the noise.
First, stock markets rise when investors pay higher prices for shares of the companies they like. Investors pay those higher prices when they believe a company's future earnings will be higher than their current earnings. For instance, the S&P 500 of U.S. stocks is up 20% through the end of July because investors believe the companies within that index – think Apple, Microsoft, Tesla, etc. – will earn more in future years. Incidentally, that's the best performance for that index through the first seven months of the year since 1997.
Second, part of our job at Moneywatch is to help you take the emotion out of investing. We do that by focusing on each of your individual financial needs and structuring your portfolios in a way that we believe will best help you achieve your goals. To put this in perspective, see the chart below that illustrates the probabilities of success of reaching one's goals. If one's time frame is a day or even a year, achieving success is tough. With a longer time frame one's odds get quite good. If you can keep this in mind, it becomes easier to put the events of the day into the proper perspective.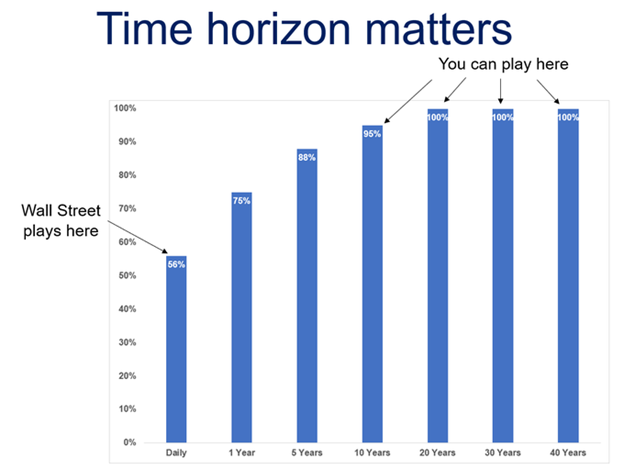 Thank you for your continuing confidence.